SSP GRINDER BURRS ESPRESSO RED SPEED HIGH UNIFORMITY 64MM FLAT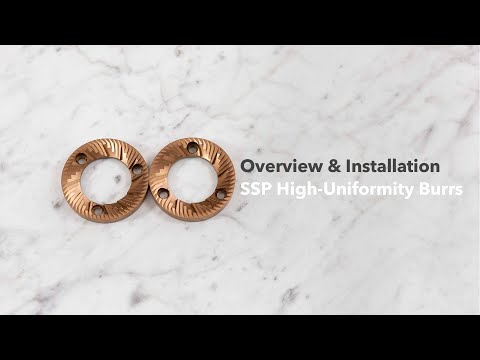 €239.00
Tax incl.
Product is in stock: 28
Increase the grinding speed and extraction quality of your ESPRESSO methods with the SSP High-Uniformity 64mm espresso burr set, designed for the G-IOTA Dose Grinder, Mazzer Super Jolly, Option-O Lagom P64, Fellow Ode and many other 64mm grinders.
SSP's unique geometric cutting patterns are designed for optimal grinding performance for espresso methods with medium and dark roasts. The High-Uniformity 64mm espresso burr set will instantly improve the quality of your espresso extractions and in many cases, dramatically increase the speed of your grind. Coated with the thinnest layer of Titanium Aluminium Carbon Nitride (also known as Red Speed) for incredible durability, these grinding discs will last a lifetime for the home user and will reduce the frequency of grinding disc changes in a café by up to 10x.
The SSP High uniformity espresso burr set gives an impressive grind quality for espresso in medium to dark roast coffees. A good burr set like SSP is one of the easiest investments you can make, not only to improve the quality of your coffee but also to save your coffee shop time and money.
In the end, you can expect a different taste profile in the cup, which your standard grinding discs will not be able to achieve. You could say that these grinding discs remove the barrier between you and the hidden nuances of your favourite coffee.
The grinding discs have an industrial look with a golden sheen and a nice, firm weight in the hand. Upon careful inspection, you will notice that each disc is uniquely manufactured; the top and bottom grinding discs offer subtle differences that enhance performance. Without a doubt, SSP has made this specialised set to be a worthwhile investment, worth a lifetime or more.