NUOVA SIMONELLI ESPRESSO MACHINE MUSICA BLACK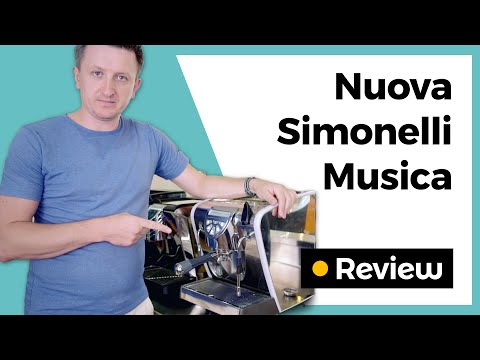 €1,079.00
€1,430.00
Tax incl.
Product is not in stock
Dedicated to those who want to enjoy an espresso, which tastes like coming from a bistro or Italian Café, but for home, office, small businesses and in a B & B.
The professional functions of the Musica are meant to give everyone a chance to know how it feels to be a real good Barista if you can make perfect espressos and creamy cappuccinos. Only a few features are sufficient to show you how professional this machine really is.
It has a visible manometer to measure the pressure in the boiler; water temperature is stabilized by an efficient heat controller in the heating element (insulated to save energy), which also guarantees that a large amount of steam is always available for frothing milk.
The group is thermo-compensated and has a pre-infusion system that extracts all noble substances in the coffee to the limit. The hot water nozzle can be programmed to give different doses, so it is possible to prepare other types of hot drinks in just a few seconds.
The professional filter holder has an ergonomic design, as well as the practical cursor steam lever.
Musica stands for a production of up to 50 cups per day.
Included in the package:

Double portfilter - 1 outlet spout - 1 filter for 2 cups - 1 single cup filter - 1 coffee measuring spoon and 1 plastic tamper
Characteristics
Height (mm):

400

Width(mm):

320

Depth (mm):

430

Capacity koffie boiler (L):

3

Power (W):

1200

Diameter (mm):

58

Capacity watertank (L):

2

Weight:

20,00 kg
HOME BARISTA COFFEE CLEANING POWDER 900GR
Best sold
JOEFREX GROUP CLEANING BRUSH EXCLUSIVE
BRITA WATER JUG FILL&ENJOY COOL BLUE
HOMEBARISTA KNOCKBOX WOOD TOP