CORES CONE GOLD FILTER WITH LID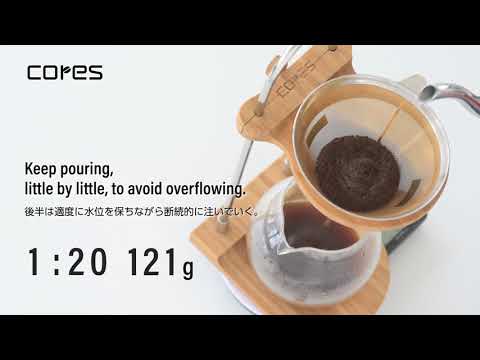 Free shipping for orders over 100 € (BE-FR-DE-NL-LU)

Right of withdrawal of 14 days

1000+ products

Exclusive brands
Reference code:
004891
CONE FILTER - C275G The raised floor is the best solution and optimises extraction. In a normal cone-shaped filter, the water is collected at the base of the filter. To prevent excessive suction, the base of our nuclear cone filter is raised so that the water flows outwards and does not collect in the central, lower part. Thanks to this increased base, no strong bitterness enters the coffee liquid.
(Conical filter from other manufacturers)
A filter with small round meshes can easily become blocked by coffee particles. The water cannot flow out and flows into the filter and collects in the central, lower part. As a result, the coffee tends to be excessively extracted. The over-extracted coffee tends to be hard and bitter.
CORES Gold Filter
The water comes into uniform contact with the ground coffee particles. In addition, the longitudinal slots in the Cores Cone Filter allow for short brewing times at very high temperatures.
The drip tray can be used as a lid for the filter.
The cone filter can be placed on the drip tray. The container can also be used as a lid for the filter.
Do you need a stand that fits perfectly on the filter?
Cores Drip Stand is designed for cone shaped filters and fits perfectly on C275GD·

Characteristics
Height (mm):

110

Width(mm):

145

Depth (mm):

130

Weight:

1,00 kg