BARISIEUR BLACK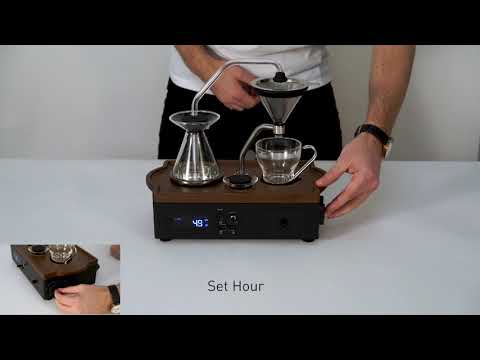 €489.75
Tax incl.
€404.75 / Tax excl.
Product is in stock: 1
Black Barisieur coffee and tea alarm clock.

Features stainless steel components and glassware that sit on a walnut timber tray. An induction coil is used to boil the water efficiently and safely in the glass boiling vessel.

The Barisieur automates the most important part of your day. Start your day right, waking up to the smell of coffee and the soothing sounds of the intricate brewing process.
Included
Boiling Vessel: 200ml max
Glass Funnel: 90ml
Drawer: 180g
Milk Vessel: 25ml
Spoon: 15g
Cup: 160ml
Easing you into the day
The Barisieur is a premium alarm clock that eases you into your morning with the soothing sounds of bubbling water along with the smell of the freshly brewed coffee or loose leaf tea.

The form follows the function
The shape follows the function with all aspects of this design; the scientific borosilicate glassware rests on a charming walnut or rubber wood top, uniting to create new distinctive shapes.

The mix of Scandinavian and timeless design makes the Barisieur feel at home whether it's displayed in the kitchen, living room or bedroom...

Influenced by your rituals
Inspired by a combination of the modern ritual of filter coffee with the iconic vinyl record player, encouraging a nostalgic experience with the user. The design was born with a digital detox in mind, where the design language balances between simplicity and mystified alchemy; watch how the water magically transports from one vessel to other due to steam pressure.

Simple yet sophisticated
It has a milk vessel centralized in the base that's cooled at 3 °C due to the integrated peltier cooler, which detects if milk is present due to an infrared sensor.
Type of coffee:

Ground coffee

Additional information:

Please check the quality of the items upon reception and contact us if you see anything out of the ordinary. Any item damaged upon arrival must contact us within 30 days of arrival.

What does this limited warranty cover?
This Limited Warranty covers any defects (see below) in material or workmanship during the Warranty Period. During the Warranty Period, Barisieur Ltd reserves the right to replace, at no charge, the product that proves defective because of material defects or workmanship.

Please note that the warranty is non-transferable and only applies to the original end purchaser.

What we will do?
Barisieur Ltd will replace the item at no charge, with a new product of the same model.

How long does the coverage last?
The Warranty Period for items purchased from Barisieur Ltd is one (1) year starting from the date of arrival.

What is NOT covered by this limited warranty?
This Limited Warranty does not cover any problem that is caused by / originates from:

Drops
Installation failures (wrong voltage, unstable surface etc.)
Daily tear wear
Intentional modifications
Items not sold by us or authorised resellers
Items not manufactured by us
Misuse, mishandling of item,
Theft or loss of the product.

What to do?
To obtain warranty service, you MUST first contact us with a valid proof of purchase AND two (2) photos to determine the problem and the most appropriate solution for you. We do not accept unannounced returned damaged products.

Barisieur Ltd reserves the right at any time, in its sole discretion, without liability to you or any third party to modify, suspend or terminate the warranty.

Important:
Promotional items (reviews, videos, etc.) are not eligible for warranty
Characteristics
:

round coffee (suggest a fine grain for the filter type).
Works with filter and espresso coffee.
Boiling time of 3-4 minutes.
Milk vessel cools over night to keep milk fresh (5-8 degrees C)
If milk is not present - cooler does not engage due to infrared sensor detection.
Can set the timer to brew or brew on demand by clicking 'Make' button.
Cup included
Dishwasher safe

Height (mm):

300

Width(mm):

280

Depth (mm):

176

Capacity watertank (L):

0,2

Weight:

5,00 kg